KastleGard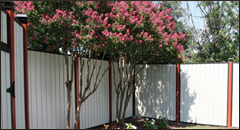 The KastleGard™ series is a versatile privacy fence system with a unique design creating total privacy in the enclosed area, all the while, still allowing air to pass through the fence minimizing the wind load. Our privacy fencing systems also allow for multiple color choices for either side of the fence. For example, should two neighbors jointly purchase a privacy fence, which borders both properties, each neighbor may choose a different color and/or texture of panel to face their side of the fence.
KastleGard™ Fences are of a "No Climb" design, which eliminates the "Bad Side" of the fence. Furthermore, this feature also adds a great deal of security to the fenced in location since the fence does not contain any protruding, horizontal pieces to act as a foot hold for someone attempting to climb over. Best of all, the shear tensile strength and class 4 fire rating makes every KastleGard™ Privacy Fence a much needed firebreak between residential homes and/or commercial buildings.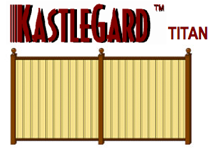 KastleGard™ Titan
This fence system is our most common option of the KastleGard™ series and includes colored posts, caps, panels, side channels, and top and bottom channels.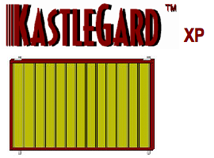 Kastlegard™ XP
The XP design allows the ability to utilize existing and/or new round metal fence posts. Brackets are fastened to the round posts and to the fence system itself. This series creates an even, consistent look on the side not containing the posts.